Dunkin' Donuts is revealing its new spring menu in April and it will definitely affect your summer beach body. This is so because the company wants you to start your morning with a square cheesecake in your breakfast. Dunkin' donut's new Oreo and raspberry cheesecake squares looks so delicious that one can't stop themselves from having one.
These squares in all their sugary glory are irresistible. Dunkin' donuts announced that they launch these square cheesecakes in April only. Moreover, dunkin' said that these gluttonous stuffed donut squares are filled with smooth and creamy cheesecake filling and it is frosted with white icing which is finished with raspberry flavored candy or crumbled Oreo cookies. Apart of its sweet taste health conscious people expect these to be equally unhealthy like the other sweet donuts.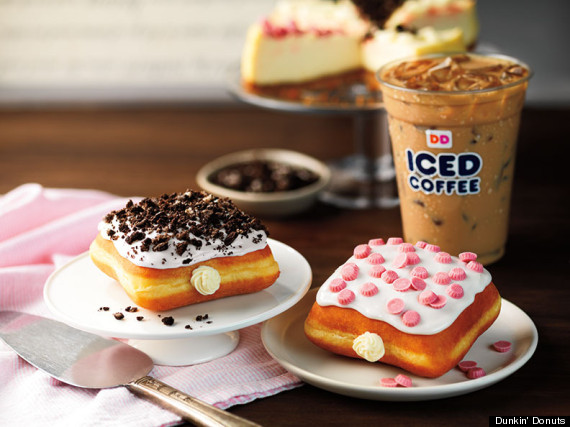 Looking forward to the rest of Dunkin's new spring menu, it is found to be surprisingly more savories than it is sweet. Possibly, it may be based on the company's success with its tomato mozzarella supreme bagel which is also called as pizza bagel. Now, dunkin' is trying out southwest supreme bagel. This supreme bagel is described as a plain bagel which is topped with melted Colby jack cheese, black beans, corn, tomatoes, peppers, onions and spices. Dunkin' is expecting the same success for their supreme bagel also lets see what will be the result of this expectation.
Other notable additions to the menu of dunkin' include a Snack 'N Go Steak Wrap and a Pretzel Roll Chicken Sandwich. The Pretzel Roll is the breaded chicken with bacon, honey mustard and white cheddar cheese on a pretzel roll and seems like it could either be really good or really gross. Company suggested accompanying it with their delicious and chilled ice tea.