Sushi is eaten by the Japanese from centuries but the sushi we know today is a fast food option. People can eat sushi at the restaurant or can carry it to homes or theatres. Sushi in the restaurants is found in two main kinds of rolls one is nigiri and other is maki.
Health benefits of sushi
Sushi comes in various varieties that many restaurant menus offer a pictorial glossary to help you order. The nutritional factors and values of one roll may vary because of this diversity. We all know that fish provides a lean source of low calorie and high quality protein. As it is low in saturated fats and cholesterol, it is a heart healthy food choice. Salmon fish is high in omega-3 fatty acids, which are linked to improved cholesterol levels, lowered blood pressure and lowered risk of abnormal heart rhythms.
The thin sheets of seaweed, or nori, which are flattened, cut and wrapped around maki and hand rolls, contain mighty minerals. Iodine is abundant in these sea foods which is essential for proper hormone function. A roll wrapped in nori also provides you magnesium, calcium, iron and folic acid.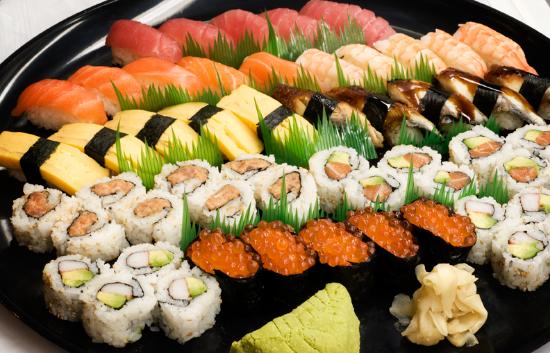 Health risks of sushi
While perusing multi-colored sushi menu you should also consider these risks:
Covert calories - As sushi ingredients get rolled up in such tiny packages, it's easy to think that you are eating a tiny amount of calories and fat. One plain tuna roll can have up to 200 calories considering cheese and mayonnaise.
Food borne illness - consumption of uncooked fish can expose you to bacteria, viruses and parasites. The deep freeze can kill the bacteria and make the sushi safer to eat.
We will suggest you to make sushi an occasional indulgence rather then a staple meal in your diet.