Sitting down daily to a bowl of cereal in the morning is not easy for everyone. Even an egg, bacon and cheese sandwich would be boring and tasteless if served for daily breakfast. America is among those few countries that indulge a separate type of cuisine for the morning meal. Some meal traditions remains the same, while western breakfast traditions have made their way onto tables all over the world.
These are some of the breakfasts around the world:
A full English breakfast: A full English breakfast includes sausages, beans, bacon, eggs, mushrooms, hash brown and toast. All these should be knocked back with a cup of tea or coffee.
Israeli breakfast: Initially Israeli breakfast was enjoyed only by the residents of Israel but now Israeli breakfast became popularized by hotels for its fresh produce and general taste. Israel breakfast plate has in general fresh bread, a variety of hard and soft cheeses, fresh juice, olives, jam and butter.
Breakfast from Netherlands: Dark syrup called 'stroop' is one which is usually served in the Netherland's breakfast. Delicious apple pancakes are a delicious combination of sweet, tart and salty.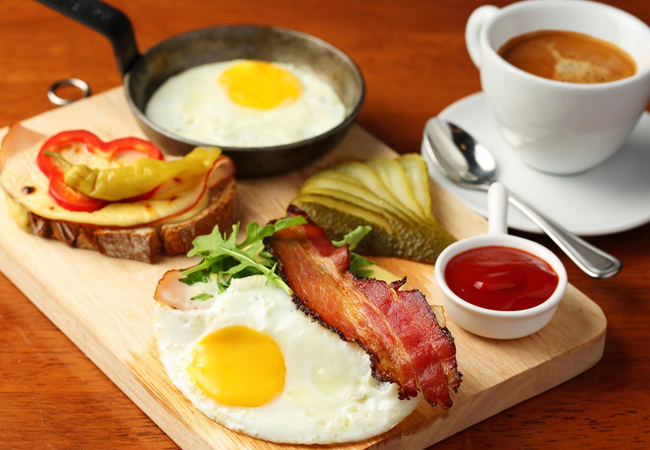 Polish breakfast: The traditional plate of polish breakfast includes scrambled eggs covered with slices of custom made kielbasa and joined by two potato pancakes.
Spanish quick breakfast: For having Spanish quick breakfast what you have to do is, rub some bread with fresh garlic and plenty of ripe tomato, then drizzle with olive oil and salt. Top with some cheese, sausage for an extra bit.
Moroccan breakfast: It consists of different breads with some chutney, jam cheese or butter. These breads really delicious with the crumpet style.
Healthy Hawaiian breakfast: Hawaiian's breakfast includes fruits at the most. They like to have raw fruits and sometimes they use to make some of their traditional dishes made with fruits.