There are billions or millions of hamburgers consumed each year in the world. Hamburgers are the most eaten snacks in many countries. Whether the consumers are children or adults, everyone loves hamburgers. While talking about the hamburgers the picture came in mind is of a burgers with brown or white bread having cheese, mayonnaise and a patty.
Japan is known for its crazy and unique inventions and this time burger king Japan invented a black hamburger. As the name indicates, black hamburger, it has black buns and black sauce. Black hamburger has become the fast food media sensation. The hamburgers people have been served so far seem considerably less delicious in front of this black hamburger. Japan has discovered this black hamburger first.
The fast food chain added black cheese and deepened the color of other ingredients in this burger. People have tried it and find it tasty even though it may look unappetizing at first.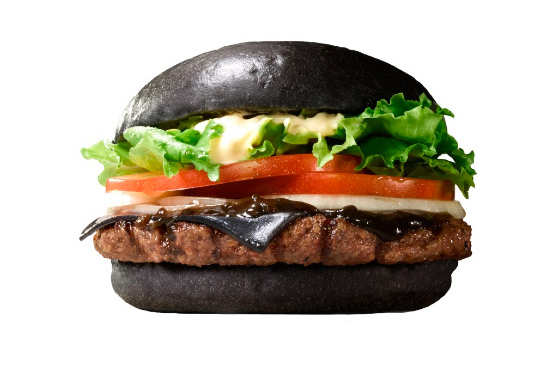 Composition of the black hamburger involves a black pepper beef patty covered with Chaliapin sauce infused with squid ink. The black buns and cheese are colored with bamboo charcoal. The taste of the burger is 'peppery'. Aside of the shocking color, it's not bad in taste. If you are expecting a totally different taste just because of the color, it might fall below expectation.
These black burgers are wrapped nicely in black wrapper and if you opt to get it go, it comes in a black bag to match. When you open it, you see a sad black burger with a plastic like looking cheese. When you take up the first bite, it smells like liquid smoke.
Issues with the black hamburger are its squid ink and black cheese which is not fully processed. Different consumers have different opinions for this black hamburger but it worth to taste once.